OUT OF THE VALVE BOX
WATER ON. WATER OFF.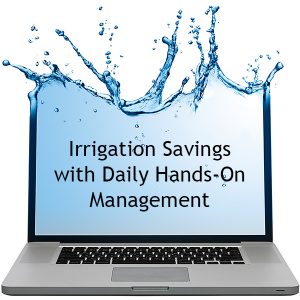 Are these even sentences? Either way, water on water off, when managing irrigation water in water restriction zones is the statement or question of the day. New sod and plantings add an added level of stress and worry. Oh, and the water restriction areas generally are in warmer climates. Our clients are often at a point of complete frustration when we step into their projects. Water management experience, knowledge, and effective processes bring solutions best for client's properties. With that said, what is successful water management? IMC has over 30 years of irrigation and water management experience. We started when the web platform was in DOS….Disk Operating Systems. Yes, we are that old.
IMC's water management processes have proven success with all manufacturers' water management products. Experience always surpasses flash and talk. Have questions? Let us get to work…
The protocol and processes set in place for successful water management are created to integrate with all water management software. Lets start with what I think is most important.
In blog #1, I mentioned that scared people move fast. Well, my thought is that people become scared when they are not sure of their direction, are guessing, or simply do not have all the facts.
So, we find ourselves at data collection.
Data Collection defined: The process of gathering and measuring information on variables of interest, in an established systematic fashion that enables one to answer stated research questions., test hypotheses, and evaluate outcomes.
Daunting indeed. There is help. For example, the Florida Water Resources Act of 1972 resulted in the creation of 5 regional water management districts and established a permit system allocating water use.
St Johns River Water Management District
Northwest Florida Water Management District
South Florida Water Management District
Suwannee River Water Management District
Southwest Florida Water Management District
Check out their link "Get the facts" to start your data collection.
IMC utilizes several resources and processes to collect data about each property, their condition, needs, and goals. Inclusive and direct is our method. Our proven success is based on clear current data for clients.
Integral to our data collection process is GPS/GIS Mapping. With color and technical application, a reliable resource for all involved. Clients utilize this information to make decisions best for their property.
GPS – Global Positioning Systems a radio navigation system that allows land, sea, and airborne users to determine their exact location, velocity, and time 24 hours a day in all weather conditions anywhere in the world. With that said, it can definitely locate a valve box or 2 or 200.
GIS –Geographic Information System is a system designed to capture, store, analyze, manage, and present all types of geographical data. Portions of the data is spatial.
IMC's water management success utilizes our protocol in all situations with all variables. We encourage you to look at your processes and protocol. Do you have one? Is it consistent? Does it involve all necessary staff? Does everyone know your process? If it is in your head, or on paper, it is clear, is it repeatable?
Take a look at your processes, confused? IMC has solutions.
In that this is posted 2 days before the Super Bowl, GO CHIEFS.
#GPS/GIS Mapping
#irrigationwater
#HOA
#Multifamily
#Hotels
#Universities
#propertymanagement
https://www.imcgreen3.com/wp-content/uploads/2017/08/Logo-340x156.png
0
0
Sue Shores
https://www.imcgreen3.com/wp-content/uploads/2017/08/Logo-340x156.png
Sue Shores
2020-01-31 10:54:28
2020-01-31 10:54:55
Water On. Water Off.